| | |
| --- | --- |
| Name | SGT Donald Deloy Stoddard |
| Branch: | USMC |
| Unit: | B Company 1st Marine Battalion, 6th Marine Regiment |
| Location of Recovery: | Betio, Tarawa, Gilbert Islands (Modern Day Kiribati) |
| Date of Loss: | November 22, 1943 |
| Status: | ACCOUNTED FOR / Recovered by History Flight 2019 |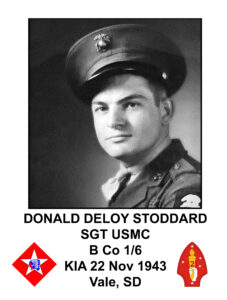 Circumstances:
On March 16, 2020, the Defense POW/MIA Accounting Agency (DPAA) identified the remains of Sergeant Donald D. Stoddard, missing from World War II.

SGT Stoddard joined the U.S. Marine Corps from Denver, Colorado and served with Company B, 1st Battalion, 6th Marine Regiment, 2nd Marine Division. He was killed in action on November 22, 1943, during the 2nd Marine Division's invasion of the Japanese-held Betio Island, Tarawa Atoll, Gilbert Islands. He was reportedly buried in Cemetery 33 on Betio. After the close of World War II, Graves Registration personnel recovered the remains of U.S. service members buried on Betio; however, SGT Stoddard's remains were not among those recovered. In 2009, the non-profit organization History Flight discovered the location of Cemetery 33 using a multi-disciplinary approach. History Flight began excavating the area around Cemetery 33, leading to the recovery of remains in 2019 from a previously undiscovered burial trench west of the cemetery. DPAA was eventually able to identify SGT Stoddard from among these remains.