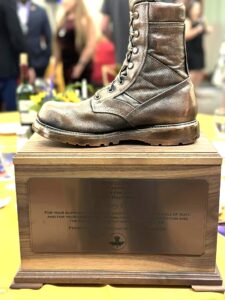 2023 Golden Boot Award Recipient

History Flight is a privately operated, Non-Profit organization dedicated to researching, recovering and repatriating America's service members back to United States of America. These individuals have been listed as Missing in Action (MIA) or deemed non-recoverable during the past American conflicts of WWII, Korean War, Cold War, and Vietnam War. There are currently over 81,900 missing American service members around the world.  Recovery operations of this magnitude are only successful through the contributions of dedicated organizations and individuals doing their part to ensure that the heroes of our past conflicts; whom have given the last full measure in order to secure the freedoms and liberties we enjoy today, are not forgotten. Since 2003, History Flight missions have recovered the remains of over 130 missing service members, in both the European and Pacific theaters of war, and helped return them to their families.

We have had the honor to serve hero missions for families of fallen Marines who were recovered by the team at History Flight, and we are looking forward to working with them soon as identification of remains they have already recovered are made and heroes are returned home.  Thank you SgtMaj (Ret) Justin Lehew, Jordan Windish, Aisley LeHew, and the entire team at History Flight for your dedication and hard work. We are honored to work with you in supporting the families who have waited decades for closure.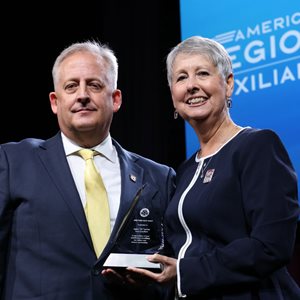 American Legion Auxiliary Public Spirit Award
On June 6, 2022, the anniversary of D-Day, the three highly decorated retired Marines started out on a hike on U.S. Highway 20. This was no ordinary hike. The voyage would take these men from Boston — through 12 states and 3,365 miles — to the final stop on our nation's west coast: Newport, Ore.  The "why" is even more impressive — to bring awareness to Prisoners of War and Missing in Action, and to emphasize the importance of continuing search efforts. These men served our country, and now that they're retired from service, they continue to serve by working to make sure all who served are returned home.
Their journey began via the USS Constitution in Boston to U.S. Highway 20. The decision to walk that highway was significant for several reasons. The highway is known as America's longest road, which relates to the long road to bring our POW/MIAs home, the War in Afghanistan and Iraq is America's longest war and began 20 years ago, portions of the road are known as the POW/MIA Highway, and it's designated as the Medal of Honor Highway. 
Funds raised from Team Long Road are supporting the mission of History Flight, a 501(c)(3) nonprofit organization based in Fredericksburg, Va., that assists the DPAA in the search for missing military personnel. LeHew and Kinzer both work for History Flight. LeHew is chief operating officer, and Kinzer is operation manager and team leader. Kinzer conducts operations in both the European and Pacific theaters of operation.
317 William St. Suite #1
Fredericksburg, VA 22401